Friendly optometry staff serving western Maine from our offices in Bethel and Rumford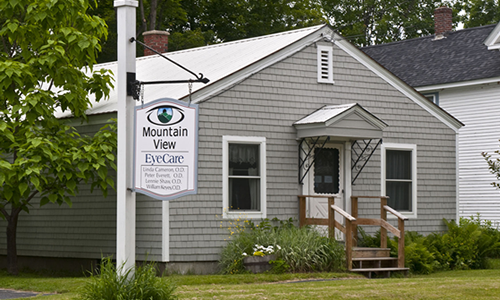 The History of Mountain View EyeCare
Mountain View EyeCare was incorporated in January of 2009.  Prior to that time, our name kept changing in an attempt to keep each optometry doctor's name on the business following each transition.
In 1966, Dr. E. Bruce Kirn, O.D. took over for Dr. Carrier, who had passed away. For many years it was known simply as Dr. Kirn's office. Bruce was popular in the Rumford community and the business grew steadily. He brought in Dr. Peter C. Everett in 1986 and it was renamed "Kirn and Everett, Optometrists". When Dr. Linda Cameron joined the practice in 1997 we became "Kirn, Everett and Cameron, Optometrists" for a few years!
Dr. Kirn eventually retired so Drs Everett and Cameron renamed the practice "Mountain View EyeCare" and employed additional associate doctors to keep up with the busy schedule. Mountain View EyeCare merged with Dr. Lennie Shaw in Bethel in 2010, and Dr. Will Keyes joined the practice in 2011. Our doctors work in both offices to meet the needs of surrounding communities and are supported by 12 full time and two part time, well-trained and friendly staff.